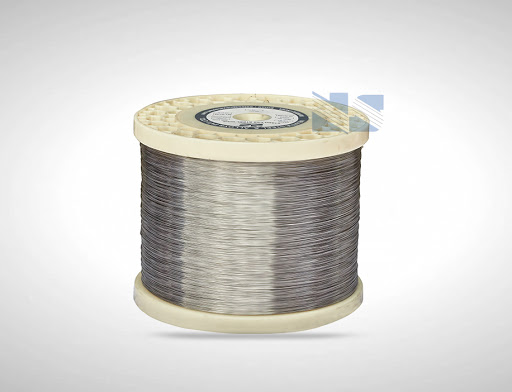 The qualities of stainless steel make it a suitable material for many commercial and industrial applications. One of the characteristics that make stainless steel wire popular is that it is corrosion resistant and does not rust. This is particularly important when stainless steel is used for underground or outdoor systems. The stainless steel wire we produce at Nevatia Steel & Alloys Pvt. Ltd has appealing qualities such as flexibility, toughness, durability, chemical inertness, weather resistance and heat resistance. It is also non flammable and has exceptional dielectric properties.
Our fine wire can be used for both high and low temperature settings. This wire is suitable for knitting, weaving and braiding applications. It can be used in the automotive, mesh manufacturing, filter and printing industries.
There are several variations in stainless steel wire. These variations possess unique properties that augment the performance of the material in specific operating and environmental conditions. The popular grades of stainless steel, which are easy to find and commonly used in woven wire mesh are type 304, type 304L, type 316, type 316L and type 403.
Some wires are solid and come in a single strand while others are braided. In order to determine which wire is most suitable for a particular application, you need to know what makes the different types of stainless steel wire unique. For example, braided wire is mostly utilized in applications where flexibility is needed. It is possible to form it into a tube shape or flat shape, contingent upon the way you want to utilize it. Braided wire is used to make coaxial cables and as grounding straps among other things. The braid wire which is rounded is usually used for audio to ensure that the sound is clear.
The diameter of stainless steel wire for braiding ranges from 0.12mm to 1.20 mm and has a uniform and bright surface. The diameter of fine wires for knitting ranges from 0.12 mm up to 0.80 mm. They have a uniform and bright surface. Our stainless steel wire for weaving is developed specifically to meet the needs of the weaving industry. We supply the wires on spools in the lengths required for warp wire depending on the preferences of customers. We pay close attention to the surface finish.
One of the main benefits of braided wire is that unlike solid wire, it does not break easily. This wire also bends around corners more easily than solid wire. These characteristics make it the most appropriate choice for use in electrical work, especially in tight spaces such as homes and electronics. Braided stainless steel wire also has built-in insulation that makes it highly resistant to corrosion and interference.
At Nevatia Steel & Alloys Pvt. Ltd, we custom manufacture wire based on industry standards or the specific requirements of a customer. Our plants are equipped with modern and comprehensive manufacturing technologies. The plants are situated in Tarapur, which is a large industrial township. This township is located near the port of Mumbai. We manufacture all our steel wires in compliance with international quality standards. Over the years, we have exported our products to many countries around the world. We can meet your needs for stainless steel wire.