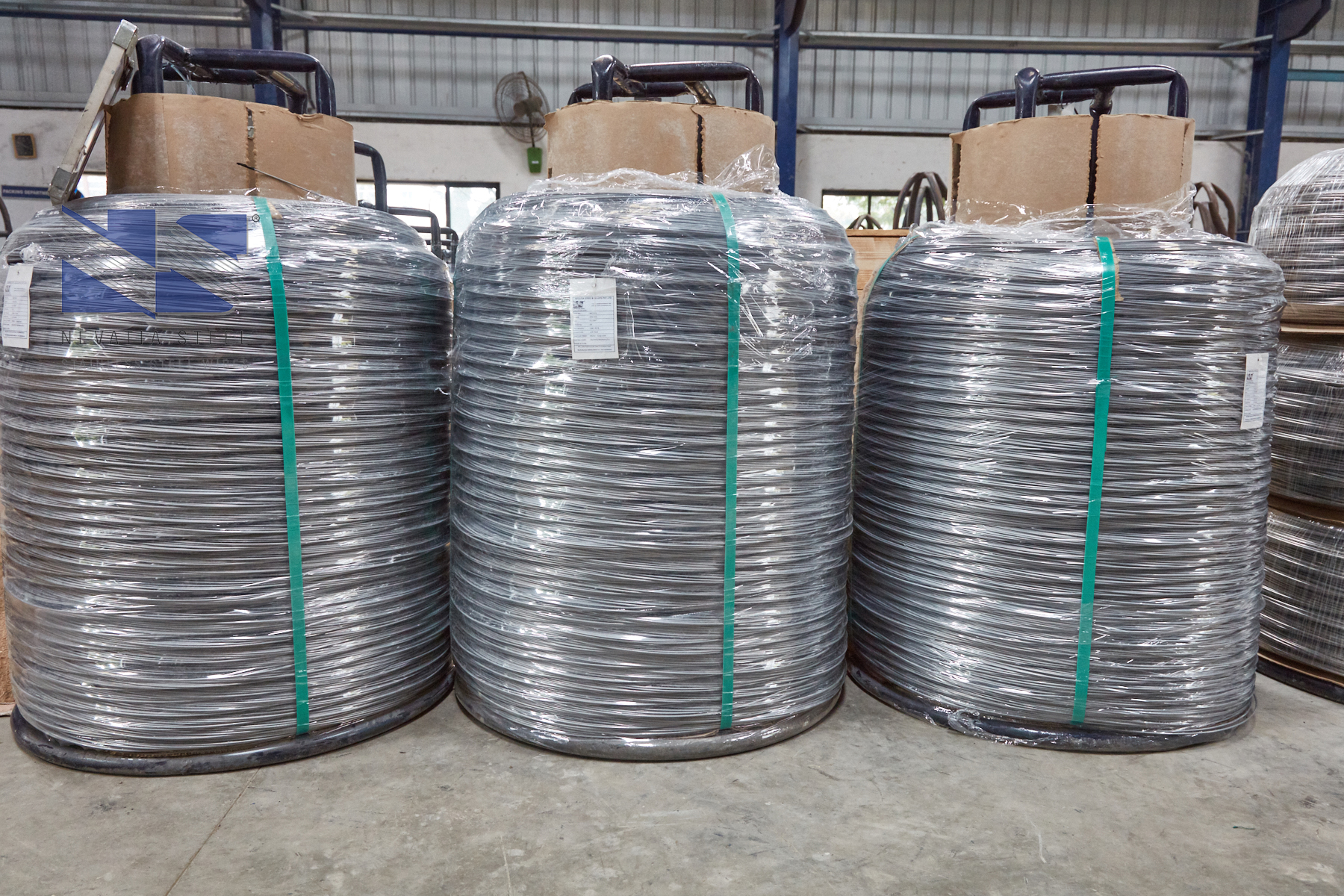 Stainless steel has properties that make it a suitable material for many commercial and industrial applications. It is an alloy of iron that contains at least 10.50 percent chromium. The chromium provides a thin layer of oxide on its surface, which helps to prevent corrosion. This metal is sturdy and durable, which makes it a popular choice for various applications, including cable and wire.
The characteristics, which make stainless steel wire a suitable choice is that it is rust and corrosion resistant. This is particularly advantageous when the wire is being utilized in underground or outdoor systems where it can come into contact with grime, dirt, chemicals and moisture.
The stainless steel wires that Nevatia Steel & Alloys Pvt. Ltd. manufactures have a number of appealing characteristics. These characteristics include durability, good tensile strength, excellent dielectric properties, chemical inertness, weather resistance, heat resistance, nonflammable, low coefficient of friction, flexibility and toughness. Nevatia Steel & Alloys is a leading manufacturer of stainless steel wires India.
We provide many kinds of stainless steel wires that can be used for both high and low temperature settings. We manufacture our wires in compliance with international quality standards and with the specifications of our customers. We make the wires in different grades and they range in size from 0.08 millimeters to 12.00 millimeters in diameter. These wires can be used to make screws, springs, sieves, nails, kitchenware, fasteners and wire mesh. They can also be used to make trolleys, baskets, welding wire and electrodes among other products.
Our stainless steel wires are used in a diverse manner in the marine, agricultural, petrochemical, paper, food and automotive industries in India and other countries. We have exported these products to many countries over the years. Some of the major destination countries for our products include Argentina, Australia, Brazil, France, Germany, India, Italy, Poland, South Africa, Turkey, U.S.A. and U.K.
As one of the established stainless steel wire manufacturers, we are committed to conducting all our operations in a way that is protective of the environment and prioritizes on the safety as well as the health of employees, the community and stakeholders. We comply with all the applicable health, safety and environmental laws and regulations. We have also put measures in place in our manufacturing plants to prevent work related accidents. At Nevatia Steel & Alloys, we also enhance awareness about safety, health and the environment among stakeholders through training and communication.
We also maintain excellent and professional after sales support. This enables us to provide our clients with high quality services. We have set ambitious targets for the future and we are achieving them with the infusion of quality management and infusion of new technology. At Nevatia Steel & Alloys, we have a commitment to build long term and strong relationships with our customers through effective engineering support and timeless development of products.
We know that our management team empowers us to lead the industry. Our team of technical and non-technical personnel is diligent and evaluates all aspects of the production system and overall operations to make sure that precision products are manufactured. Our team plays an essential role in providing high quality products and services to the customers.