Grades: 307 Si (18 8 Mn), ER 308, ER 308L, ER 308LSi, ER 309, ER 309L, ER 309LSi, ER 310,ER 316, ER 316L, ER 316LSi, ER 347, ER 430, 430LNb & 409Ti
NEVINOX MIG Wire for GMAW process:
Sizes: 0.60 mm – 1.60 mm
Surface : Matte or Bright
Packing: 1 kg wire (SD 100), 5 kg wire (SD 200), 12.50 / 15 kg wire (SD 300) plastic or BS 300 basket spool
NEVINOX Pail Pacs for Robotic or Automatic welding:
NEVINOX MIG Wire in special PAIL PACS for high productivity GMAW (MIG) process and robotic applications:
ROBOTIC APPLICATION: Nevinox drum pac with a "No twist pay-off system" suitable for robotic and automatic welding. Our pail pac system is designed for robot equipped facilities and can be easily attached with any wire feeding unit.
INCREASE IN PRODUCTIVITY: Down time is greatly reduced compared to standard spools resulting in high productivity and cost efficiency.
CLEAN CONDITIONS: No contamination from the shop environment
LOW SPACE REQUIREMENT: The drum diameter is only 510 mm.
QUICK SETUP: Adapt quick and easily to any conventional feeder.
UNINTERRUPTED FEEDING: The wires are packed in layers within the drum resulting in uninterrupted feeding.
WASTAGE CONTROL: Cast and helix is adjusted in such a way in our drum pac that reduces the wastage caused by arc wandering.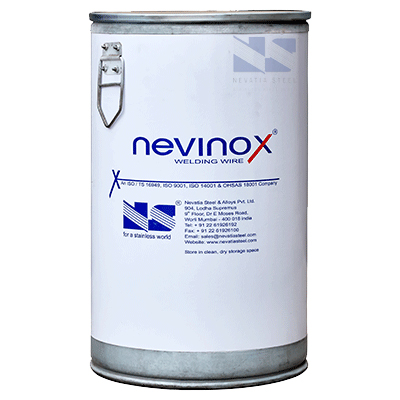 As a MIG welder, you need to buy only the highest quality stainless steel MIG welding wire. By doing so, you could save extra money spent on welding operations like cutting, shaping, joint formation, pre-heating, tacking, grinding, and so on. Don't ever be tempted to buy a low-quality MIG wire as you will lose money in the end. Instead, consult us for guidance and extra details about our high quality Nevinox MIG welding wire.
Our MIG filler wire in stainless steel is designed for robotic or automatic welding operations. Boasting a wide size range, 0.60 mm to 1.60 mm, our Nevinox MIG Welding wire is made for GMAW and robotic operations. If you deal with robotic operations, feel free to pick our Nevinox drum pack. It comes with a No-twist pay-off system that is suitable for automatic welding and robotic applications. It can use any kind of a wire feeding unit.
Increased productivity rather than down time is possible if you use Nevinox MIG wire in special drum pack. In fact, you will attain cost efficiency and enjoy working without any degree of contamination. As our drum diameter is only 510 mm, you don't need a large working space.
Additionally, our matte and bright MIG wire comes in several grades of stainless steel, ensuring that most efficient welding operation. If you want to learn more about us, visit our Contact Us page and get in touch with us. As the top MIG wire manufacturer in India, you should only expect the best from us.