307 Si (18 8 Mn), ER 308, ER 308L, ER 308LSi, ER 309, ER 309L, ER 309LSi, ER 310, ER 316, ER 316L, ER 316LSi, ER 347, ER 430, 430LNb & 409Ti
NEVINOX SAW Wire for SMAW process:
Sizes: 1.60 mm – 5.00 mm
Surface: Matte or Bright
Packing: 25 kgs. or 60 lbs. layer wound coils with core or H 400 plastic spools or K 415 metal wire baskets
If you are involved in SAW (submerged arc welding) process, you know that it is an extremely rapid welding process that generates high deposition rates. It is generally a dynamic process that requires use of a submerged arc wire. With a few techniques to boost your SAW projects, including tandem, twin-wire and stick-out welding, you can use our wires in a profitable manner. We produce the highest quality SAW welding wires in stainless steel and we have no match. Our stainless steel SAW welding wire is durable and it can fit many different applications and projects and offer excellent results if used correctly.
SAW welding process
As with MIG welding, SAW welding is all about creating an arc amid a consistently-fed naked wire electrode and the workpiece. The first thing that a metal fabricator does is to place a thin layer of flux powder over the surface of their work piece. The arc travels along the joint line, causing extra flux to be recycled through a hopper. Heat loss is usually low, as the arc is totally covered by the flux layer. This triggers a thermal efficiency of up to sixty percent.
Stainless Steel SAW Wire can be supplied either on a metal rim, plastic spool or a metal basket spool. We have the options. Choice is yours.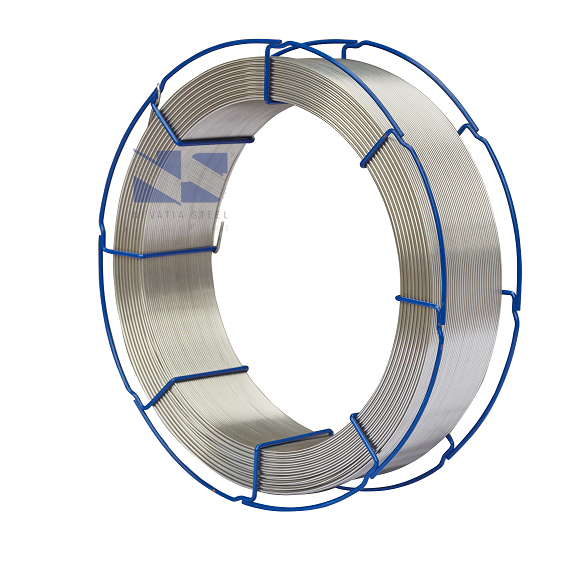 Getting in touch
For more information about our Submerged arc wire options, call our marketing department or Contact us today. We will be glad to explain about our product range to you.