Braiding, Weaving & Knitting Wire
Wire suitable for Braiding, Knitting & Weaving applications mainly used in mesh manufacturing, automotive, printing and filter Industries.
Characteristics of Weaving Wire
Shiny surface condition
Controlled mechanical properties w.r.t. individual application
High resistance to corrosion
AISI 304 /(L), 316/ (L), 316 Ti, 310, 314, 321, etc.
Diameter (mm)
Tolerance (mm)
Tensile (N/mm²)
Packaging and Spool type
0.100 - 0.250
+/- 0.004
850 max
DIN 125/ 160/ 200/ US200 (NS10) / NS5
0.260 - 0.400
+/- 0.005
830 max
DIN 200/ 250/ US200 (NS10)/ US 250 / PT15 / PT25
0.410 - 0.630
+/- 0.007
800 max
DIN 250/ US250/ DIN355
0.635 - 0.800
+/- 0.009
780 max
DIN 355/ Pay-pack Drums/ Coils
Please check with us for specifications not listed above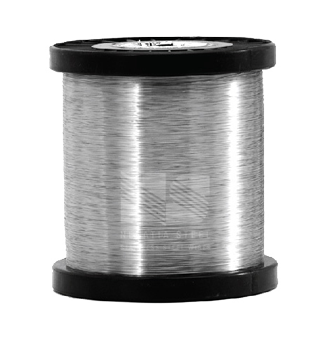 Diameter (mm)
Spools
Spool Wt. (Kg)
Wire Wt. Max (kgs)
Spool Dimensions (mm)
D1
D2
D3
L1
L2
0.100 - 0.200
DIN 125
0.15
3.00
125
80
16
100
125
0.100 - 0.250
DIN 160
0.35
6.50
160
100
22
128
160
0.150 - 0.400
DIN 200
0.70
14.00
200
125
22
160
200
0.250 - 0.630
DIN 250
1.00
22.00
250
160
22
160
200
0.410 - 0.800
DIN 355
2.00
45.00
355
224
36
160
200
0.150 - 0.400
NS10/ US200
0.70
14.00
200
115
32
152
187
0.250 - 0.630
US 250
1.00
22.00
250
160
32
160
200
0.20-0.35
PT-15
0.64
15
180/200
95/108
30
200
227
0.25-0.70
PT-25
1.05
25
210/225
108/128
32
248
278
0.15-0.30
NS-5
0.22
5
120
54
16
130
150
Pls check with us for specifications not listed above